New Academic Pathway for Biblical Studies Students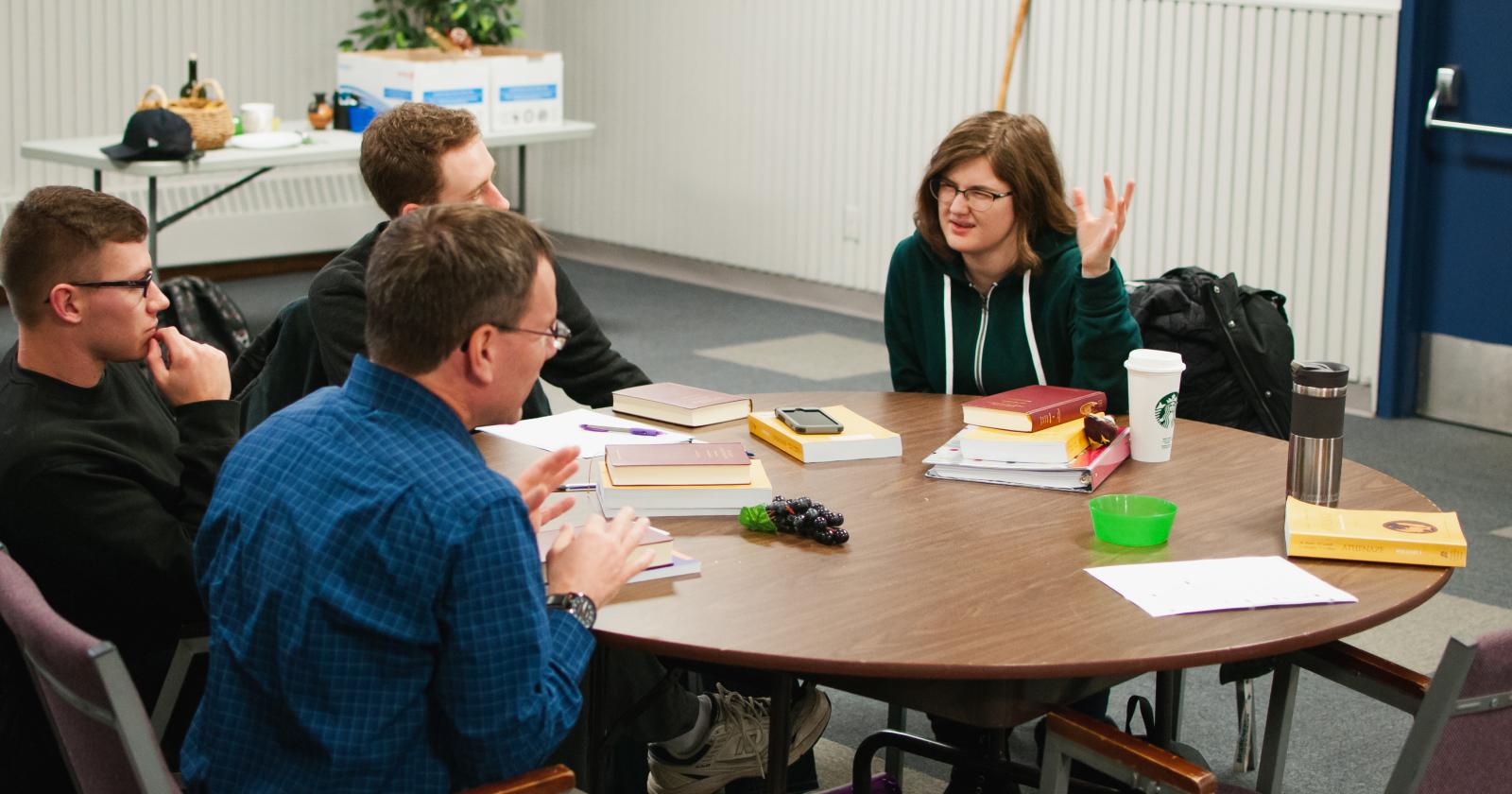 Briercrest Seminary, in collaboration with the College & Seminary Department of Biblical and Theological Studies, is excited to announce the launch of a new academic pathway. Under this program, Briercrest students can now complete a BA in Biblical Studies at Briercrest College and, subsequently, a MA in Theological Studies (MATS) or Biblical Languages and Exegesis (MABLE) at Briercrest Seminary in as little as five years.
Dr. David Miller (Associate Professor of New Testament & Early Judaism) says,
This new pathway is a win for Briercrest College students who are already prepared by their undergraduate degree in Biblical Studies to step into the advanced stages of Briercrest Seminary's MATS and MABLE programs. It shortens the time to an MA degree and provides further opportunities for students to deepen their knowledge of the Bible and biblical languages.
This new 4+1 academic pathway is among many innovative programs at Briercrest. As the first partnership between the College and the Seminary, the BA/MA Biblical Studies academic pathway provides students with the opportunity for a more efficient educational experience. In addition to this BA/MA program, Briercrest also offers a 4+1 academic pathway for TESOL students to earn their BA in TESOL at Briercrest and their MA in TESOL through Biola University in California. Prairie College BA students may also take advantage of a fast-track program to earn their MDiv through Briercrest Seminary in five years, thanks to the recent Integrated Bachelor of Arts in Ministry + Master of Divinity academic pathway. These academic pathways offer students diverse choices, allowing them to optimize their investment in education and achieve their academic goals more efficiently.
At the same time, students will complete language prerequisites and up to 40 credit hours that count toward their MA program during the 120 credit hours of the Briercrest College degree. This will enable students to concentrate on writing an MA thesis during their final year in the BA/MA pathway.
Students in the pathway will receive specialized guidance from dedicated program sheets that will point them toward courses that are eligible for advanced standing in the seminary and courses with additional seminary requirements that they need to take as "shared credits" between the college and seminary.  
The BA/MA academic pathway could potentially increase enrollment in both the college and the seminary by drawing students interested in optimizing their investment time by earning a 60-credit-hour MA degree in just one year after completing their Briercrest undergraduate degrees. Students in the pathway will benefit from Briercrest's innovative approach to teaching languages as living languages. They will be better prepared to complete a major graduate-level research project in their final year.
Dr. Jason Mills (Dean of the Seminary and Assistant Professor of Spiritual Theology) says, 
We've always accepted Briercrest College students into our Seminary programs. After four years of undergraduate study, we would invite them to spend up to two additional years on a winding path to an MA degree. Not anymore. We straightened the trail and paved an educational highway. Students can save time and money en route to receiving exceptional graduate-level theological education. I commend this pathway to Briercrest undergrads considering a biblical or theological master's degree as a next step.
The five-year BA/Ma Biblical Studies pathway will appeal to students who want to pursue further education in Biblical Studies or Theology, as well as students who simply want to develop their knowledge of the biblical languages and their skill in reading the biblical text in preparation for ministry in a lay or vocational capacity.
Available MA degrees include Biblical Languages and Exegesis, Theological Studies (Old Testament Concentration), or Theological Studies (New Testament Concentration). There are also plans to develop a five-year BA Theology/MA Theological Studies (Theology Concentration) pathway.  
For more information, contact David Miller at dmiller@briercrest.ca.